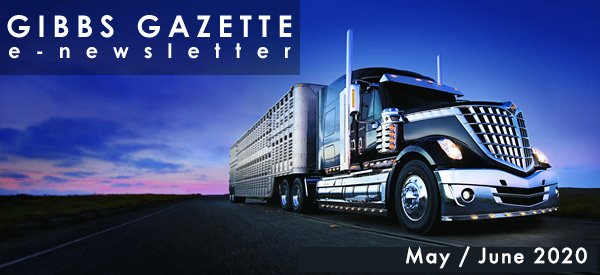 GIBBS TRUCK CENTERS has been serving Central California since 1969. We have (4) four full service commercial truck dealerships offering the complete line of INTERNATIONAL and ISUZU brand products and services. We carry a multi-million dollar parts inventory to meet our customers' needs. Our Service Departments are staffed with Factory Trained Technicians with ASE certification. Should you require an additional unit we offer Rental trucks or full maintenance leasing through our Gibbs Idealease organization. Our state of the art paint and body shops can handle any make or model repairs. Looking to purchase a truck or tractor please contact one of our highly experienced sales professionals.
Gibbs Truck Centers was awarded for 2020
DIAMOND EDGE CERTIFIED
Congrats Gibbs On Your performance!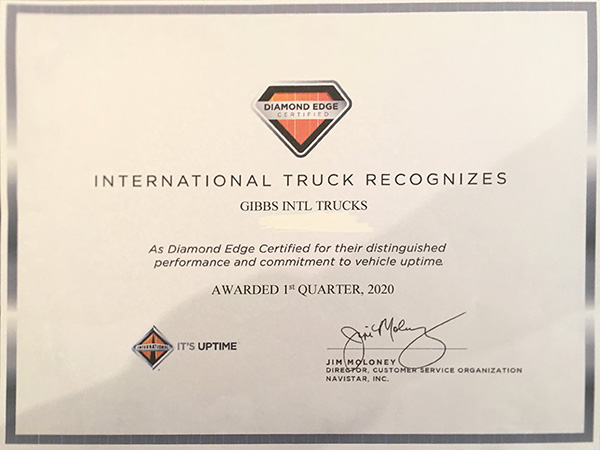 GIBBS TRUCK CENTERS RECENT ACTIVITIES
Gibbs Body Shop trucks are headed to Antartica. Body Shop in Oxnard receives a big "Thank You" for painting fleet of 8 trucks.
Well, you knew it before I did but the trucks are in Port Hueneme and they're the talk of the program. We're working on getting another parts order together to address the issues that you identified in your inspections. The photo of the trucks in PTH is on our big monitors in the hallway that highlight our accomplishments and your company is credited with the work. It has been a very challenging year for us in the program and what wins we get we're going to shout about. Your team stood out. Our subcontracts team, our T&L folks, my boss, heck everyone has commented on what a fantastic job you did. If they knew the barriers that we laid out for you they'd be even more impressed.
I don't know how much of your job satisfaction comes from putting smiles on faces but you sure did. As to the other part of job satisfaction we've provided all the requisite approvals to get this through our accounts payable process. 'Hope you see that soon. All I can offer you is a great big thank you. Please pass that on to your folks.
Best regards,
Dave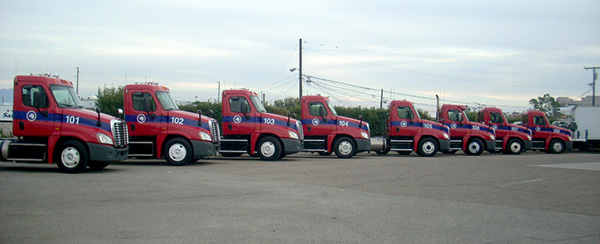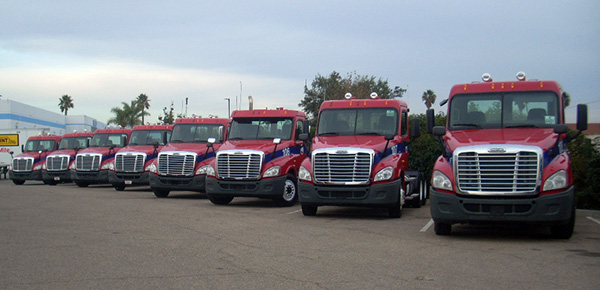 The red color makes them stand out from the snow background.
---
Gibbs Trucks Centers supports NCL Toy Drive
Supported in part by National Charity League and National League Ventura County Juniors. The toy drive collects donated gifts for the patients and siblings of the Children's Cancer and Blood Disease Unit at Ventura County Medical Center (VCMC). The donated truck is used to pick up the gifts throughout Ventura County, transport them to the YMCA Camarillo to be wrapped, and then transported to VCMC.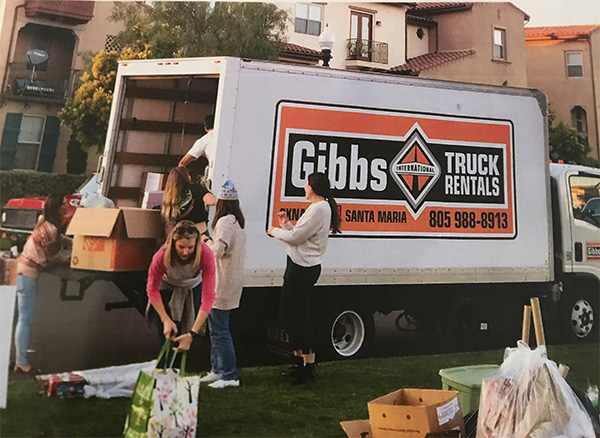 ---
Gibbs largest dealership in Fresno, CA is getting a Refresh!!
Check out the New Parts Department, Service and Lease & Rental Departments
Come See Our Large Truck Inventory Soon!
| | |
| --- | --- |
| BEFORE | AFTER |
Introducing New International CV Series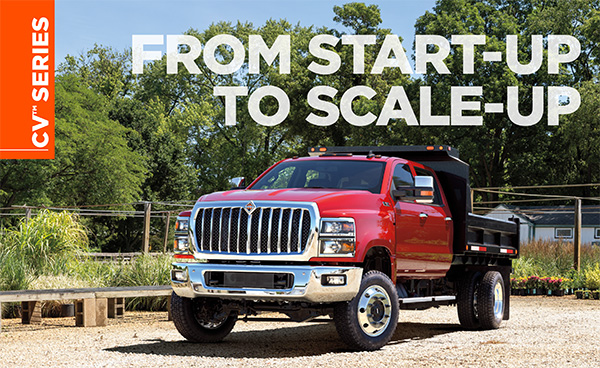 Introducing the International® CVTM Series - the only class 4/5 truck designed, distributed and supported by a manufacturer that specializes in commercial trucks. That means the CV Series includes commercial-grade features like a heavy-duty, gear-driven transfer case, a single, high-strength frame rail, an available air ride rear suspension, a forward-tilting hood with easy-to-reach maintenance points, 700 ft-lb of reliable torque and a long list of details only found on a true commercial truck. And best of all, the CV Series is supported by the largest commercial dealer network in the industry with more dedicated truck bays and diesel technicians than anyone else. Smart, capable and strong, the CV Series is ready to take your business to the next level.
Key Features
Industry's largest commercial dealer network with the most dedicated commercial truck bays
The forward-tilting hood provides easy access to the engine and routine service points
Single high strength steel frame rail (50,000 PSI yield strength) is ready for up-fitting
Available air ride rear suspension provides a smooth ride and height adjustability
Commercial-grade Hydromax Braking System
Powered by one of the most trusted and thoroughly-tested engine/transmission combinations in the industry with 350 HP and 700 ft-lb of torque
GVWR up to 22,900 lbs
International Truck Specialty Centers are available to provide quick, efficient and cost- effective custom engineering solutions
A DriverFirstTM interior with automotive-like comfort, featuring premium interior finishes and outstanding ergonomics
Come into Gibbs to Buy a NEW TRUCK without payment for 6 months.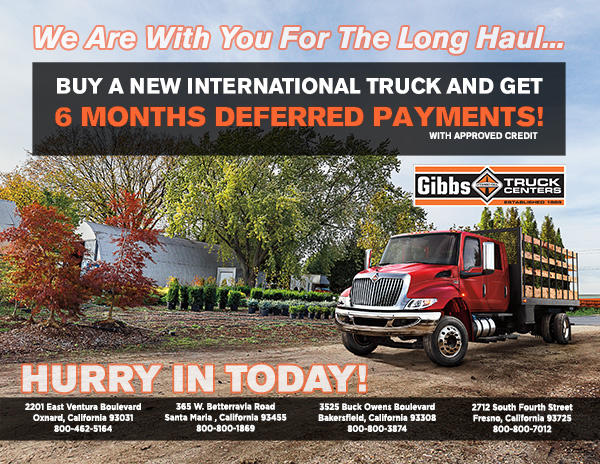 ---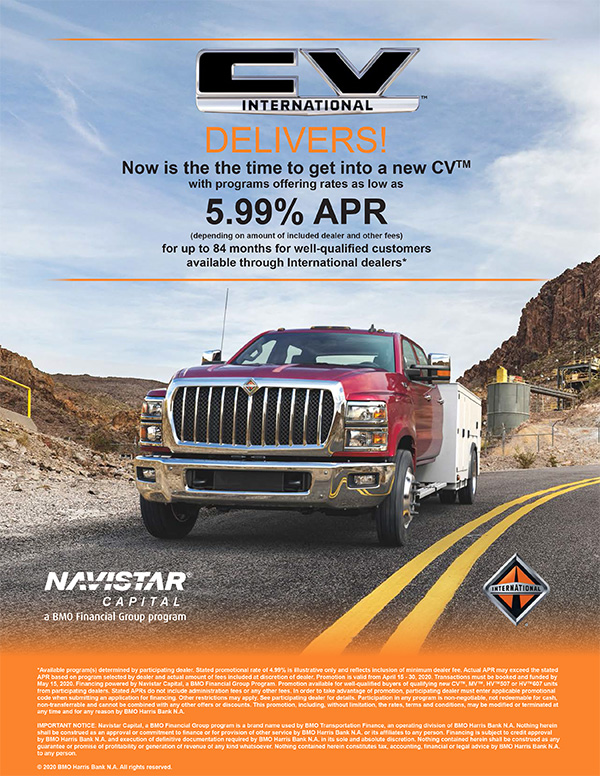 ---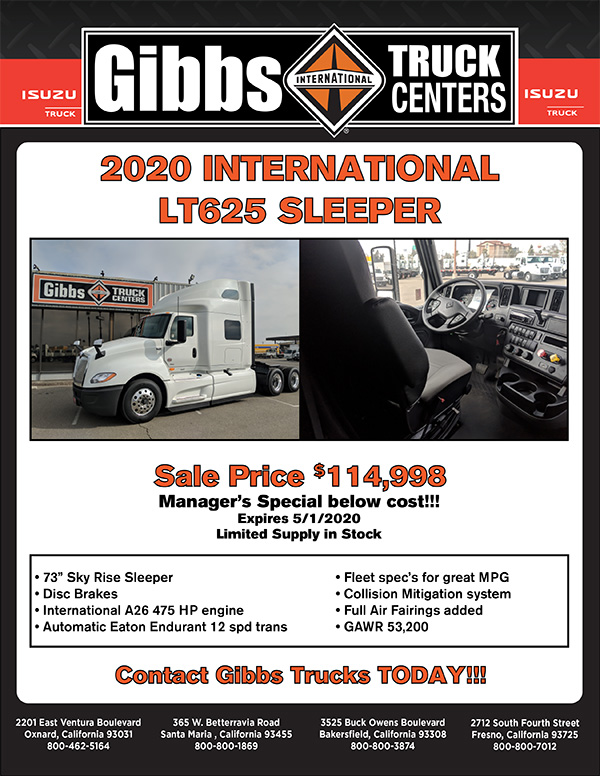 I want to share a quote from Clint Bruce. Clint was a Navy Seal, played in the NFL and a terrific speaker. He talks about achieving excellence vs. being average or good.
"Average has no secrets. Any books on how to be average? Or how to maintain mediocrity? Has anyone asked you how to be average? Average has no secrets. There's nothing to learn.
Then there is good. Good is OK if it's not your passion or your job. You can show up be good and you will be OK. But what you do, won't really matter or have an impact. But excellence is what we aim for. Excellence means it matters to you. Excellence means it has an impact bigger than yourself. Excellence means you are committed and determined. And then there ar those that never stop striving, they strive to be beyond excellent"
Bring your Bus Fleet into Gibbs for new paint jobs and save with our Summer Special!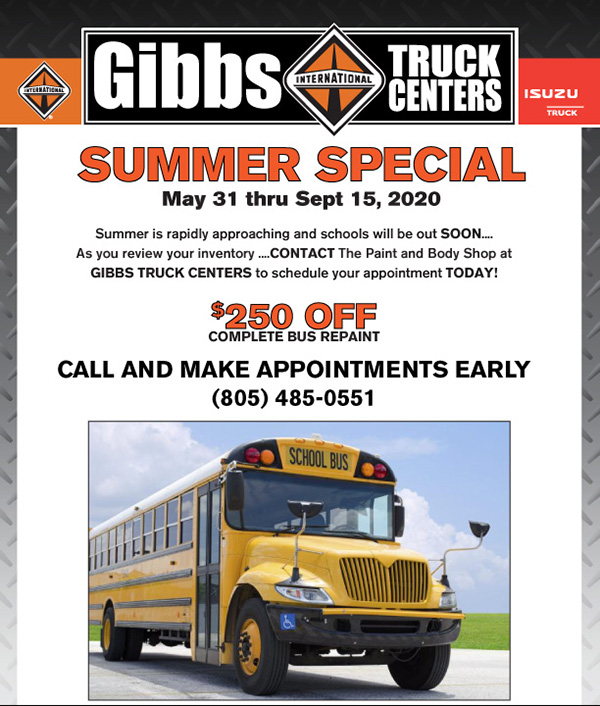 Take and look at these Manager's Specials!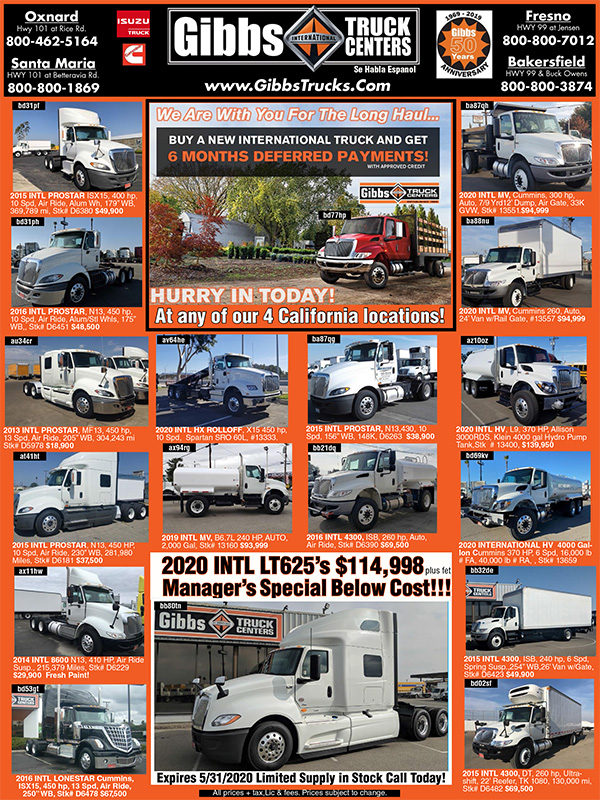 PARTS - PARTS - PARTS - PARTS
Come in to take advantage of our Parts Specials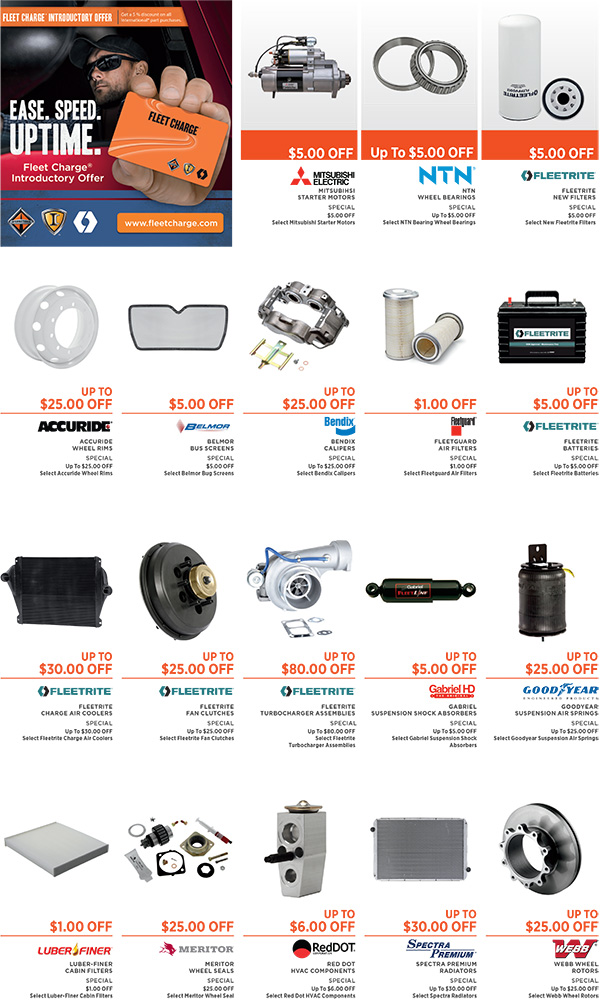 Gibbs Lease/Rental at four locations!
We Rent...
16' Stakebeds
16' City Vans
24' Reefer Trucks
24' Vans with Liftgates/Rail/Gates
24' Flatbeds
24' Stakebeds
2 Axle Tractors
3 Axle Tractors
See our Rental Board for Rates
LET GIBBS TRUCK CENTERS in Oxnard, Santa Maria, Bakersfield and Fresno help you with your ROAD CALLS! We are available 24/7 - day or night.
EMERGENCY SERVICE
Schedule your fleets on Saturday for PMS or DOT's. CALL TODAY!
2201 East Ventura Boulevard
Oxnard, California 93031
800-462-5164
Quick-In Ouik-Out Services
2200 Auto Center Drive
Oxnard, California 93036
805-988-8913
365 W. Betteravia Rd
Santa Maria, CA 93455
800-800-1869
2712 South Fourth Street
Fresno, California 93725
800-800-7012
3525 Buck Owens Boulevard
Bakersfield, California 93308
800-800-3874
6320 Hosfield Dr.
Tulare, California 93274
559-686-2377
You are receiving this monthly e-newsletter because you registered on our website, gibbstrucks.com. Gibbs Trucks is required to provide certain information to their customers which we do through this e-newsletter, and our printed version of Gibbs Gazette throughout the year.
Our Privacy Policy
Gibbs Truck Center's relationship with its customers is very important. We respect your privacy and will always protect the information you provide to us. We will never make available our mailing lists, telephone numbers, billing information or e-mail addresses to anyone other than employees of Gibbs Truck Centers and only for the purpose of processing orders during day to day business.